Shark Cage Diving in False Bay….As good as it gets!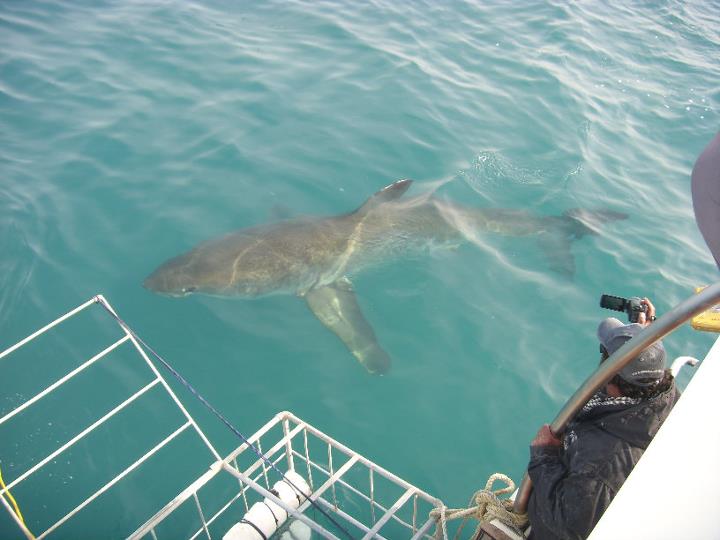 What's the best thing about February in Cape Town? For us here at African Shark Eco-Charters and our avid sharkie followers locally and worldwide and the answer is easy….our return to Seal Island! This is the time of the year that our famous great white sharks or 'men in grey suits' make their presence known again at Seal Island in False Bay. Annually the sharks leave the island around the end of October and generally can be found cruising around inshore during the early summer months. February is the time of year we usually except to see 'signs' at the island that they have returned. Seals clustered tight to the rocks and no longer idling in the water around the island is an example of such a sign and indicates that the sharks are back.
Last week Friday the crew took the Blue Pointer out to the island to test the waters. In just 2 hours we had two different sharks, one of which stuck around and 'played' with us. The following day three sharks were seen at the island. The sharks seem to be returning to the island a bit earlier than usual this year which is good news for those of us, like me, who think these remarkable creatures are just about as good as the natural world gets. It appears the sharks are ready for this season… are you?!
The few months of the shark off-season are finally over and I am so thrilled to get back out to sea! My tingling shark sense is going off and I have a feeling that 2013 is going to be an epic season. Whether you're a nature lover, an expert photographer, an adventure junkie or just a curious person, I promise you will come away from your experience with us and the great whites of Seal Island with unforgettable memories. Our trips here at African Shark Eco-Charters offer shark cage diving, surface viewing and starting in mid-April, shark breaching viewing opportunities.
Please read up on our website about the specifics with regards to our unique shark cage diving experience in False Bay. See you out there!
Allie Skidmore
[/fusion_builder_column][/fusion_builder_row][/fusion_builder_container]